The 15 Best Sweatpants For Men
When the cold weather comes calling, be it in October or in the depths of winter to come, you've really got two options. Gear up to face the day, throw on multiple layers and rugged boots, a cozy sweater and shirt … and get out there. If you don't have a choice, that's the way to go. But if you do indeed have a choice as to your next move, there's one course of action: Throwing on cozy, stylish sweatpants for days at home or on the road — and even casual outings aplenty.
Yes indeed, the best sweatpants for men are actually closer to your favorite denim or chinos than baggy sweatpants of yore. Make no mistake, a pair of quality sweatpants combine standout style with the cozy, warm fabric you expect and need in a great pair of sweats. Yet, there's just a little something extra about this crop of men's sweatpants — they've got the added style factor that makes them a go-to option for casual-yet-polished travel (again, they're not sloppy!) or laidback days in front of the fire.
Modern sweatpants can do a little bit of everything, and we think our picks are quite fitting for the start of winter in that regard. They're made to be worn with casual picks aplenty, including a rugged crewneck sweater or a warm chamois overshirt atop a crisp white tee. If you feel so inclined, throw on high-top sneakers and a merino tee for the ultimate in travel-ready comfort and style, too. Rethink what you thought you knew about sweatpants, and then make sure you pick up one of these pairs quickly — winter's coming.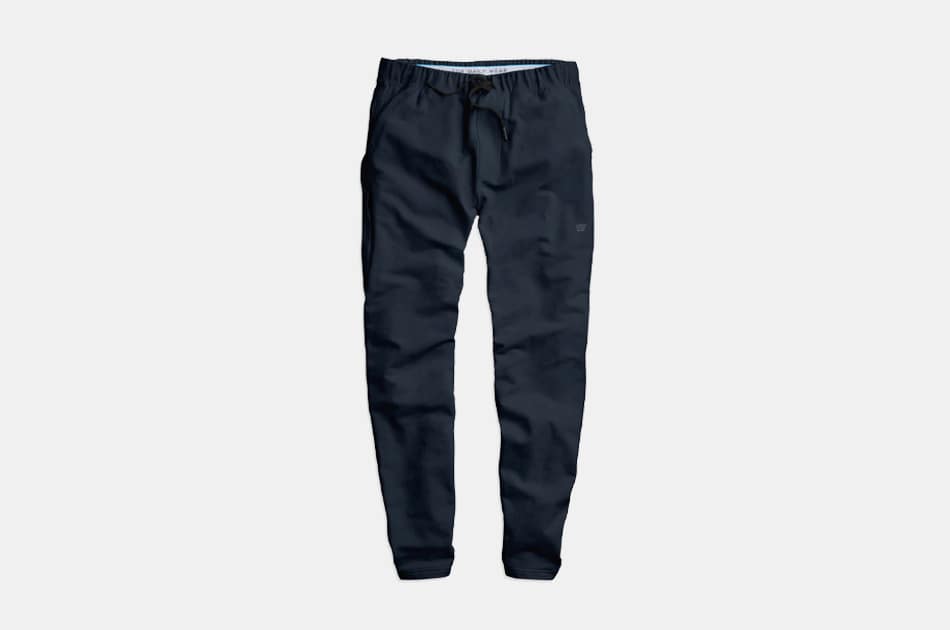 Mack Weldon Ace Sweatpants
The Ace Sweatpants are just that — your "ace" in the hole when it comes to a go-to pair of slim, tailored and stylish men's sweatpants. This brand knows a thing or two about gear for guys on the go, opting for versatile, city-ready silhouettes that can stand up to a commute, a gym session and a coffee run afterward. We love the soft micro-sanded French terry fabric for everyday comfort.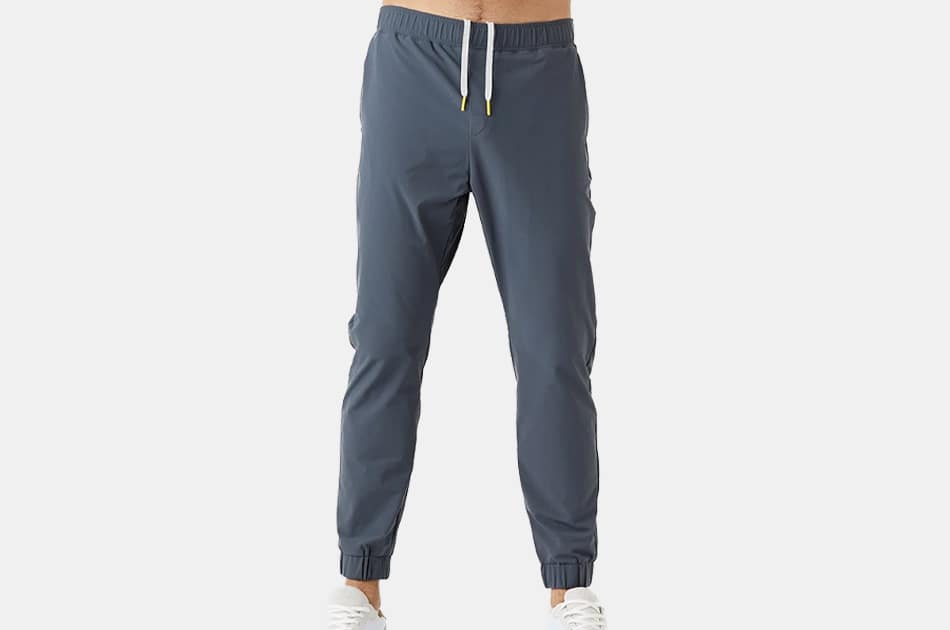 Olivers Bradbury Jogger
Olivers is yet another brand that gets the fact that modern guys want, well, modern sensibility and style mixed with top-notch performance. For all those times when you need reliable sweats to get outdoors and knock out a training run, but want something with a bit more polish, you've got the Olivers Bradbury Jogger to throw on. They're made with water-repellent fabric and four-way stretch, the perfect combination of form and function.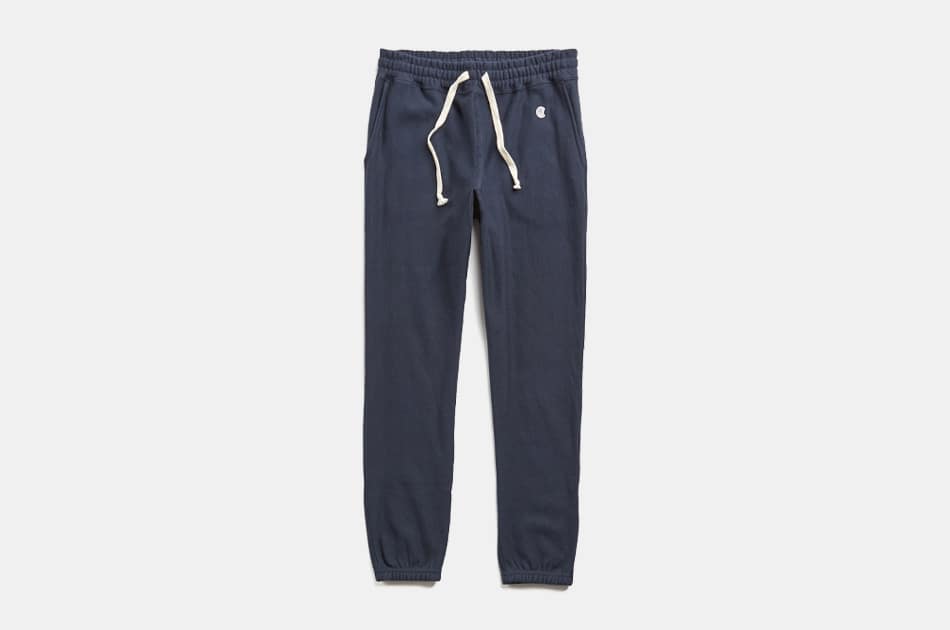 Todd Snyder + Champion Classic Sweatpants
Perhaps no brand has done more in recent years for guys looking for stylish, classic basics than Todd Snyder. In  fact, the Todd Snyder + Champion line embodies this approach perfectly, blending rugged style with gym-ready functionality — especially if your gym leans more old-school than sleek and swanky. And when you just want a pair of sweats to throw on with stylish trainers and a Todd Snyder denim jacket? These couldn't be more perfect for the occasion.
FourLaps Rush Jogger Pants
A recent addition to the lineup at Nordstrom, Fourlaps encourages consumers to "start before you're ready," and gear like the Rush Jogger Pants help to deliver on that message. The tailored fit and zip phone pocket make these as stylish as they are functional, while the cotton-poly-spandex blend is also comfortable and yet gym-ready. Add one of the brand's moisture-wicking tees to round out your next gym ensemble.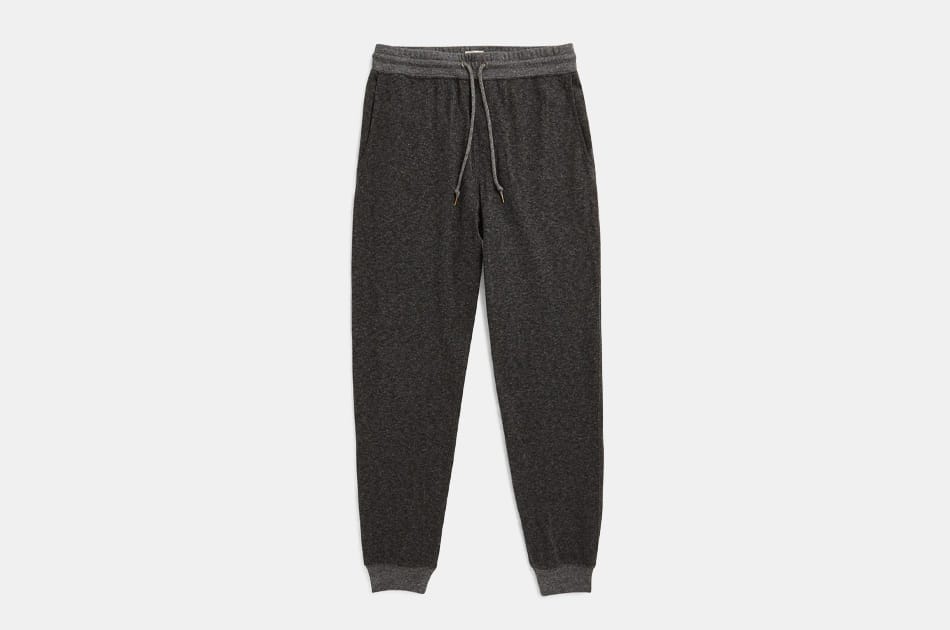 Faherty Brand Sweatpants
The right mix of classic and current is often found in seemingly every thread of Faherty Brand products — that's just a fact. Faherty has always delivered gear that's a cut above the rest, thanks to excellent fabric and breezy styling potential (get a look at the brand's excellent flannel shirts and five-pocket pants, for instance). The Faherty Brand Sweatpants shown here work when you want a comfortable, cozy pair that'll still look polished enough to step aside and hit the road for the holidays.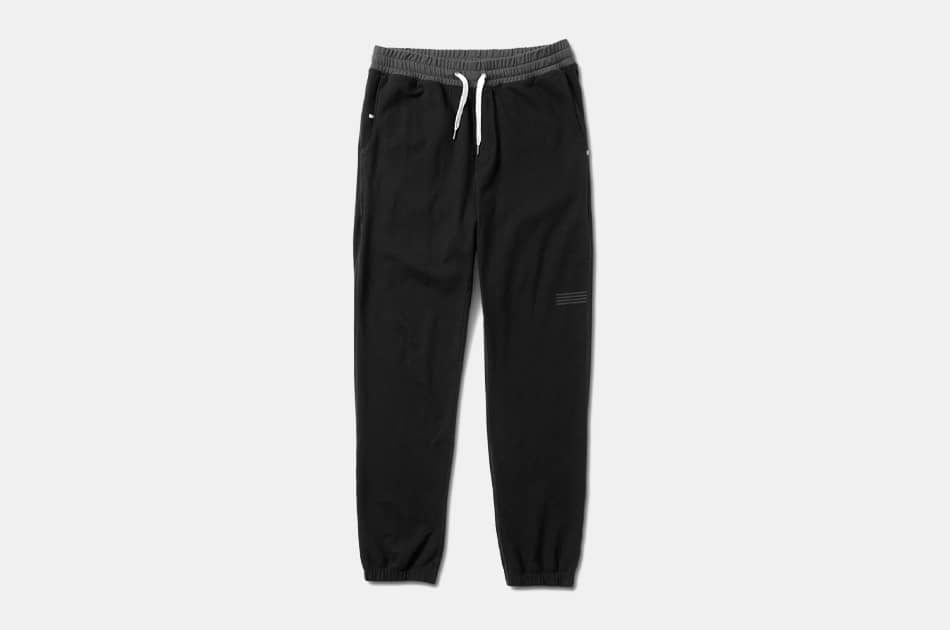 Vuori Balboa Pants
With just the right blend of easygoing style, not to mention the kind of minimal look that seems to be all the rage these days, the Vuori Balboa Pants simply check all the right boxes. The use of ultra soft peached cotton, paired up with a relaxed fit, might make these the perfect sweatpants to wear all weekend long — even if your only errands involve picking up a latte and putting on a record.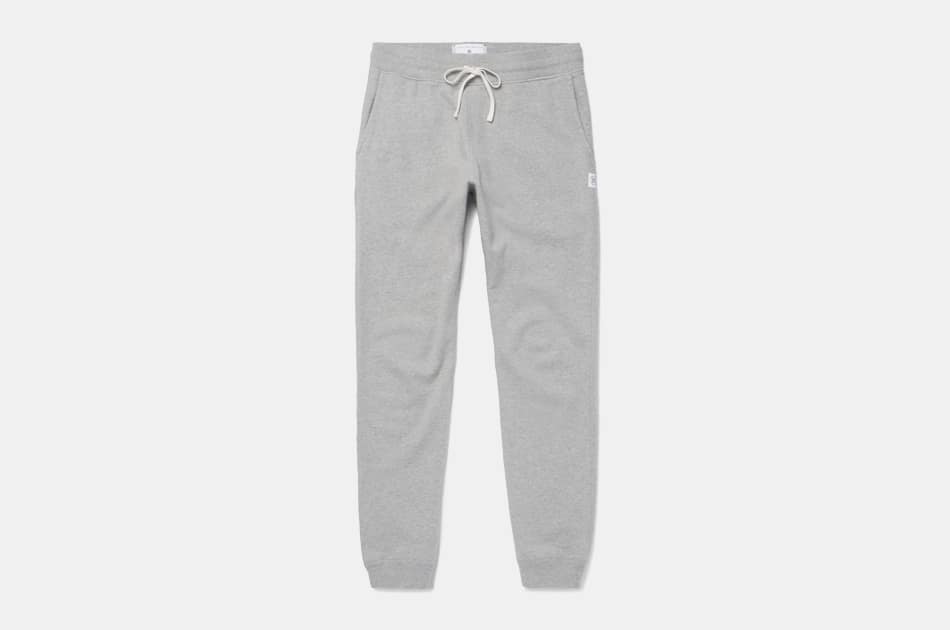 Reigning Champ Slim-Fit Loopback Cotton-Jersey Sweatpants
When we want athletic gear that combines modern flair with old-school construction and modern innovation, we turn toward Reigning Champ, making its gear in Canada using time-honored methods that result in nothing but the best men's sweatpants (and sweatshirts, and crewneck) on the market. Crafted from soft loopback cotton, these sweatpants are no different when it comes to blending the old and the new in an absolutely perfect way.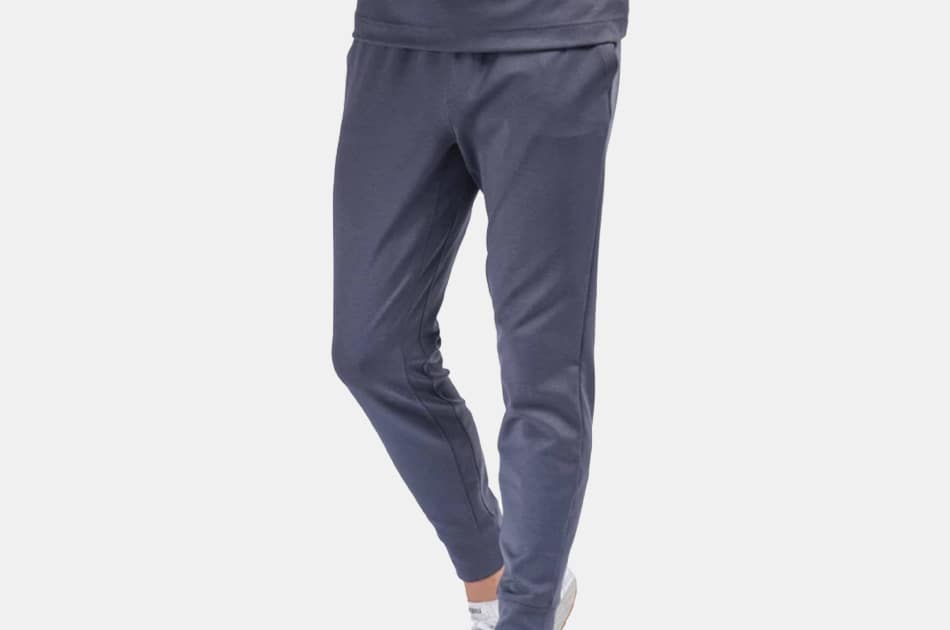 Rhone Spar Tactel Jogger
It should come as no surprise that the brand at the forefront of making modern, streamlined gear for the modern man also makes one heck of a pair of thoughtfully considered, well-constructed sweatpants — the kind of sweatpants for men that work on a long-haul flight, at the gym or on your couch (especially on your couch, seeing as they're geared toward recovery and comfort). You can feel the difference in the Rhone Spar Tactel Jogger, made from moisture-wicking fabric that includes nylon tactel for added durability.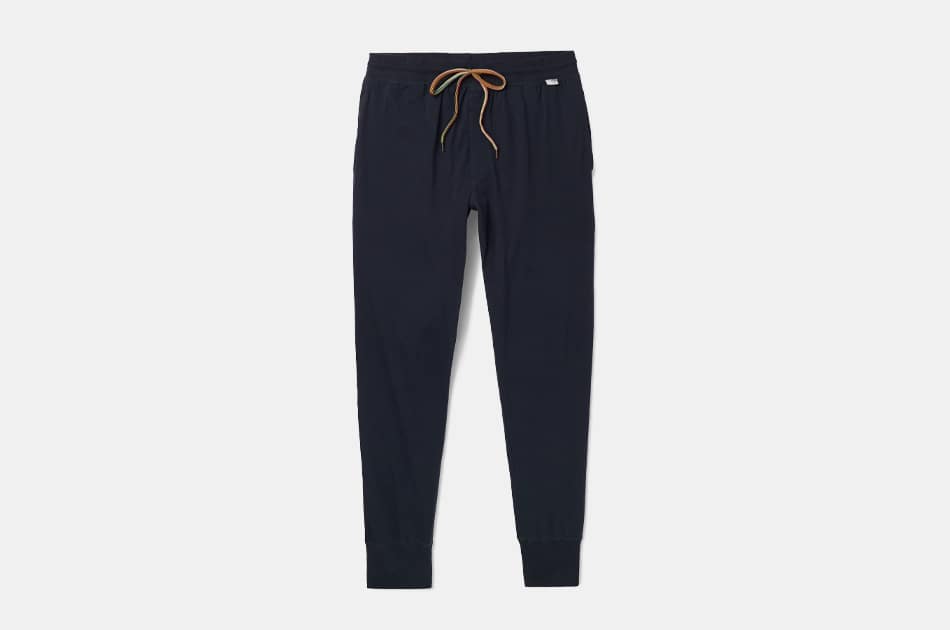 Paul Smith Slim-Fit Tapered Cotton-Jersey Sweatpants
Can sweatpants be luxurious? Can they be refined? Yes, they certainly can — that is, if they're crafted like Paul Smith's Slim-Fit Tapered Cotton-Jersey Sweatpants. They're sold by Mr. Porter, a retailer that knows a thing or three about more refined matters of style, and they're nearly as well-made as your favorite chinos or suit pants. Yes, it's true — take the cozy cotton-jersey fabric and deep navy color, then pair these with brown leather sneakers and a white henley. Saturday style, sorted.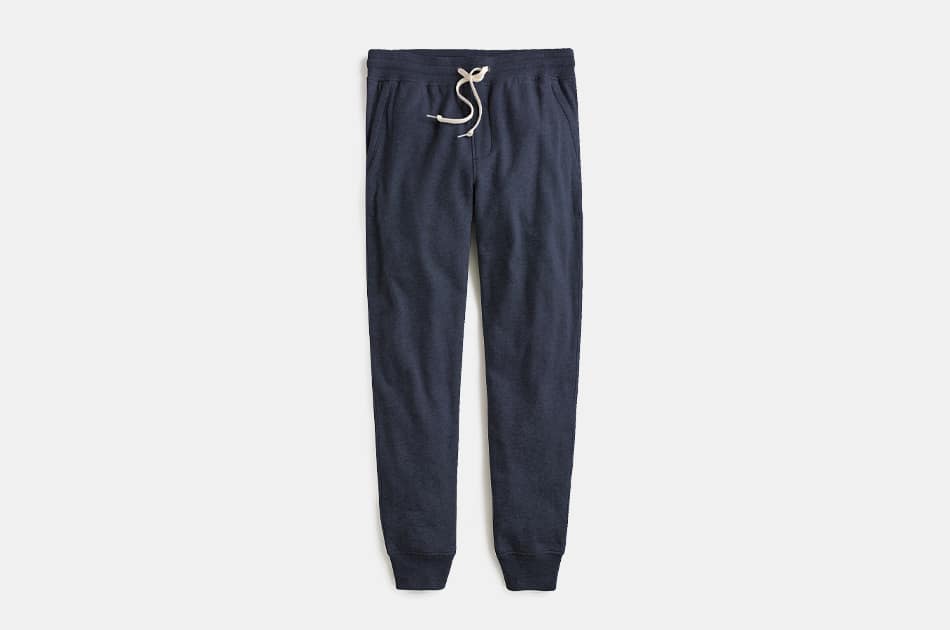 J.Crew Brushed Fleece Sweatpants
J. Crew certainly has a knack for making casual style staples that toe the line perfectly between laidback and on-duty style (such as its go-anywhere chambray shirts or henleys). And the Brushed Fleece Sweatpants are a modern take on sweatpants, made to wear with stylish retro runners and a faded denim jacket for a clean, easygoing look.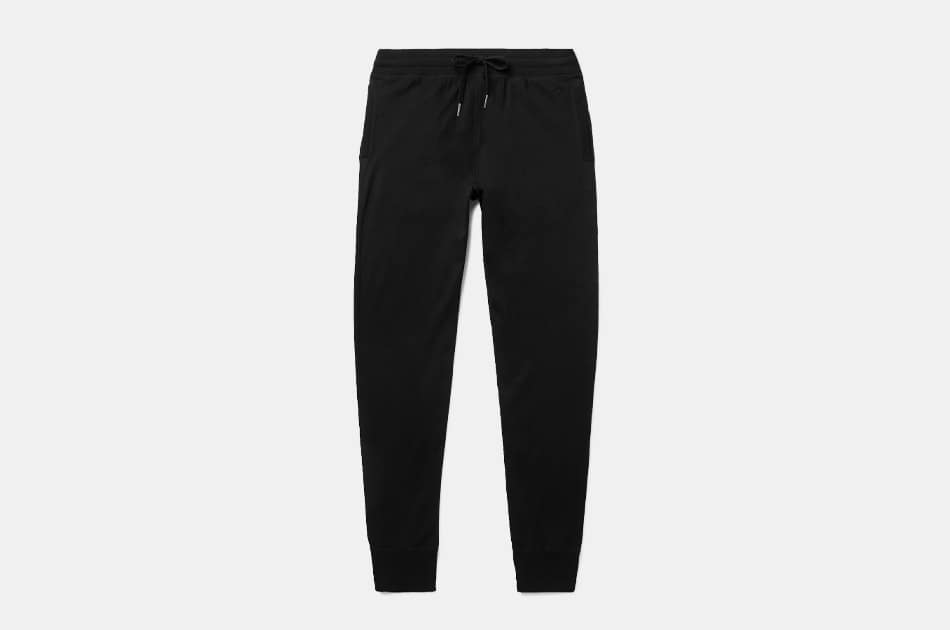 Tom Ford Cashmere-Blend Sweatpants
As with some of the other picks on our list, it's surprising what can happen when you set out to track down a pair of surprisingly refined sweatpants. And in this instance, there's perhaps no finer place to go than Tom Ford, as the Cashmere-Blend Sweatpants are every bit as essential and luxurious as the brand's other modern, highly covetable style staples. They pair easily with a wool shirt jacket and a burgundy tee for off-duty fall and winter style that really isn't quite so off-duty.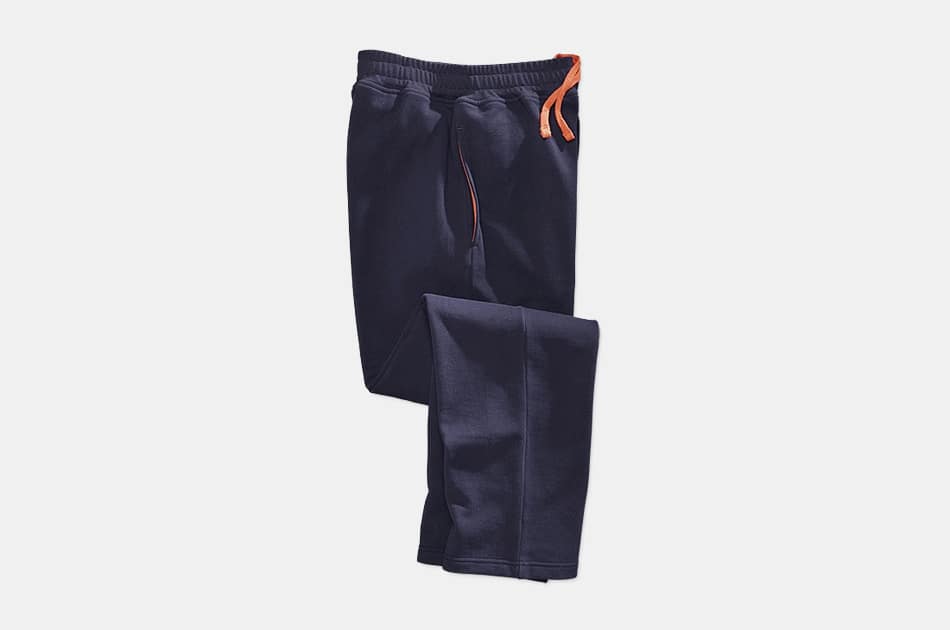 Orvis Signature Sweatpants
Surely, you're aware of the Orvis commitment to quality and dependability when it comes to rugged gear made for the field, to go along with exceptional basics like thermal shirting and now, a pair of signature sweatpants. If it sounds too good to be true, well, think again — the Signature Sweatpants are true to form, and every bit as well-made as you'd expect from a heritage brand. They're practically made for chilly winter mornings at your cabin or across the holiday season — there's no wrong way to go.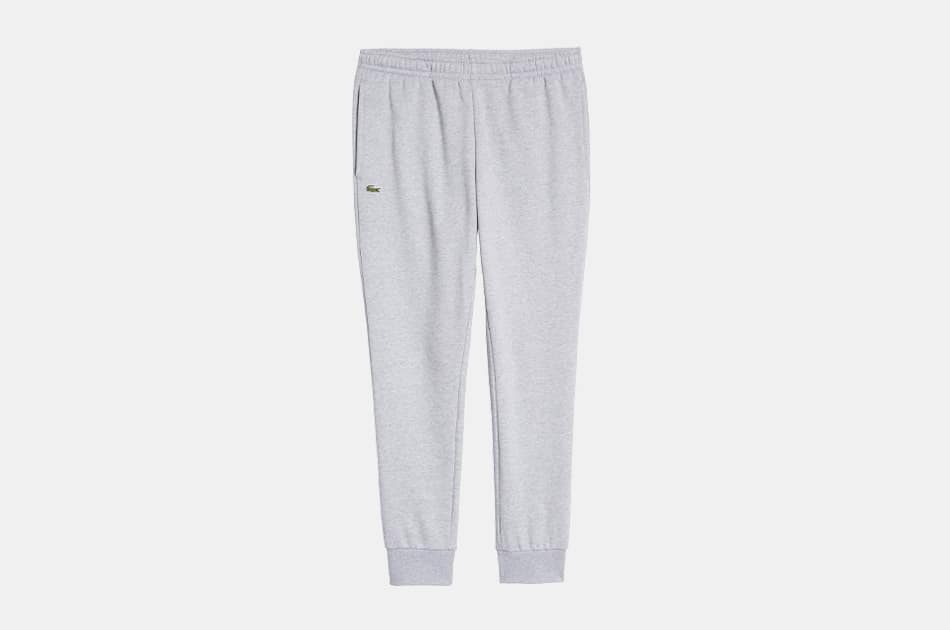 Lacoste Fleece Sweatpants
Look in your closet — perhaps you've got a Lacoste polo or two for warm weather? But what about when chillier temperatures strike, what's your go-to move in that case? Upgrade your off-duty, cold-weather style with the Lacoste Fleece Sweatpants, made from cozy cotton-blend fleece that should provide plenty of weekend-ready comfort.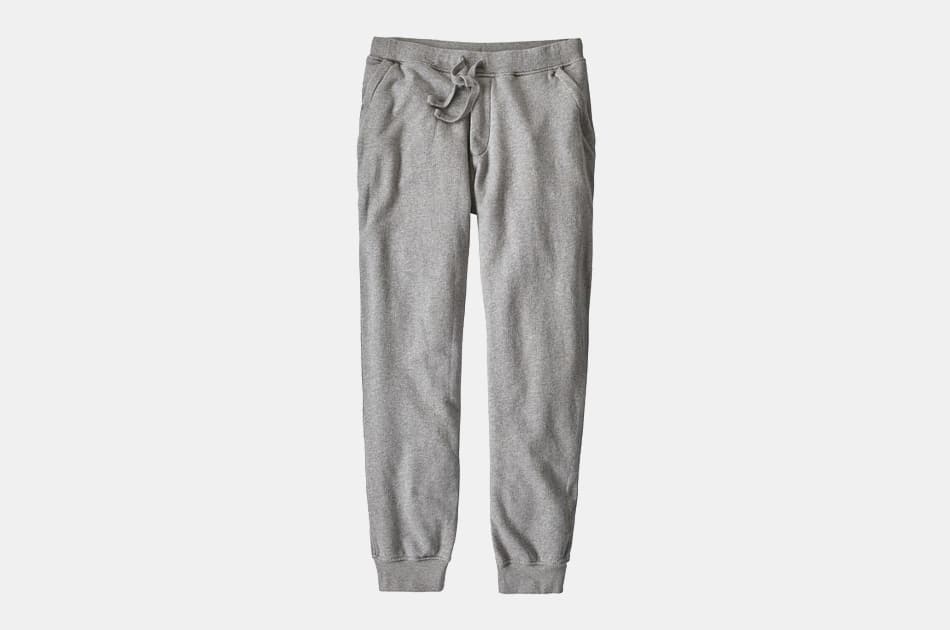 Patagonia Men's Mahnya Fleece Pants
When you need to brave the elements but don't really feel like doing so (even if it's a quick dash into town to refuel your wares at your cabin), the Mahnya Fleece Pants from Patagonia are the ideal pairing with … well, none other than a Patagonia puffer jacket. It's reassuring when a brand can deliver reliably in so many different categories, and folks, Patagonia is definitely that brand. They can make the best men's sweatpants as readily as they can churn out mountain-ready outerwear — we applaud that versatility.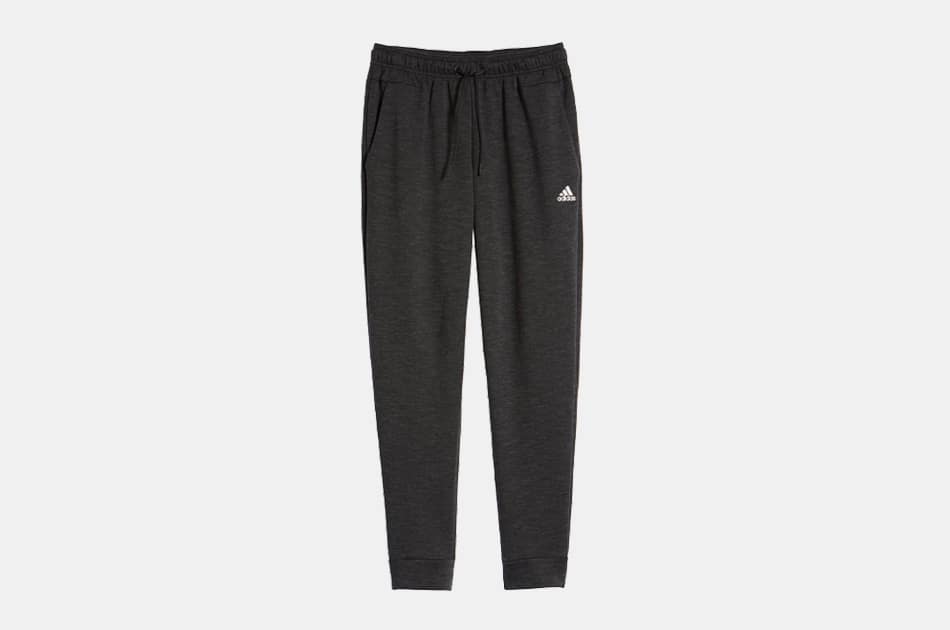 Adidas Stadium ID Sweatpants
Oftentimes, the best place to get some of the best men's sweatpants is right in front of you — in this case, an iconic brand you've probably worn for years. Give Adidas another try with a decidedly performance-friendly pair of slim sweatpants that deliver on and off the track. The cotton-blend fleece is soft and comfortable, while the phone-zipper pocket is about as handy as can be.
Disclosure: Clicking on these links and making a purchase may earn us a small referral fee, at no extra cost to you. Learn more here.